Embossed Aluminum Sheet
Embossed Aluminum Sheet Technical Specifications
Thickness: 0.2mm-6.0mmmm
Width: 300-1600mm
Length: 200-11000mm
Material (alloy): 1050, 1060, 1100, 3003,3105, 5005, 5052, 5083, 3105,3005
Temper:Stucco embossed sheet O, H12, H14,H16, H18, H22, H24, H26,H32,H34,H38,H112
Embossed type:two bars, three bars,five bars,diamond, normal orange peel,classic orange peel ,rhombus pattern
various size & thickness.
Surface treatment:coated,polished,embossed
Package:Standard seaworthy export packing,wooden pallets with plastics protection
Color:Ral. color or as per customer's requirement

Embossed aluminium sheet or coil feature
1 High weather resistance
2 Anti scratch anticorrosion
3 Easy processing and Installation
4 High brightness

Color Match of the Embossed aluminium sheet coil
1. For custom color requests, we can deal as following:
A. Supply a physical sample of custom color. A color sample on metal
is preferred. If other, it is also acceptable.But the color matching rate
may be not good as color on metal.
B. New color sample is usually offered by our paint supplier in 5-7 days,
special color should be in 7-10 days.
C. Upon receipt of color sample, please approve in writing as soon as
possible. Once you approved, we will arrange purchasing and production.
Note: Color difference maybe occurred in different production batch,
so it is suggested all panels are placed in one order for same project.
And keep same direction as arrow on protective film when installing to avoid
any color difference by vision.
2.For general colors, please refer to our color chart

Henan Mintai Al.Industrial Co., Ltd As a China-based embossed aluminum
sheet and aluminum coil manufacturer and supplier, we also supply aluminium
slit coil, aluminum plate, aluminum coil, aluminum sheet, aluminum strip,5 bar
aluminum tread plate, anodising aluminum sheet, aluminium circle,aluminium
composite panel,coated aluminium coil etc. For more product information,
please feel free to contact us.
Embossed aluminium sheet or coil Export countries:
Britain, France, Germany, Italy, Belgium, the Netherlands, Luxembourg,
Ireland, Denmark,Greece, Portugal, Spain, Japan, Norway, New Zealand,
Australia, Switzerland, Sweden, Finland, Austria, Canada and Poland,Brunei,
Cambodia, Indonesia, Laos, Malaysia, myanmar,Philippines, Singapore,
Thailand, Vietnam,Russia, Ukraine, belarus, kazakhstan, the Czech
republic, Slovakia, Poland, Hungary, Bulgaria, the United States
Products distributor ,Agent,dealer in these countries:
Philippines, Singapore,the United States,Australia,
Vietnam.
Product distribution industry:Manchine manufacturing industry,transport
equipment industry,Automobile industry,packaging products manufacturing,
medical equipment industry,decorative,products manufacturing,food packaging
industry, printing industry,Aluminium bottle and caps manufacturing industry,
ACP industry, floor industry,Roofing industry.

Henan Mintai AL. CO., LTD is a China-based manufacturer and supplier
of aluminum sheet.In order to better serve our customers, we also provide
aluminium slit coil, embossed aluminumsheet, aluminum coil, 5 bar aluminum
tread plate, aluminum coil, aluminum strip, aluminum plastic composite panel,
coated aluminum coil,aluminium sheet,aluminium foil ,aluminium diamond
plate and more. If you have a need for any of our products, we welcome
you to contact us. We sincerely hope to cooperate with you!
Embossed Aluminum Sheet Application:
Embossed Aluminum Sheet made in china is widely used in refrigerator, freezer , interior decoration ,roofing,ceiling,wall decoration, household applicances , and other fields.The products have all kin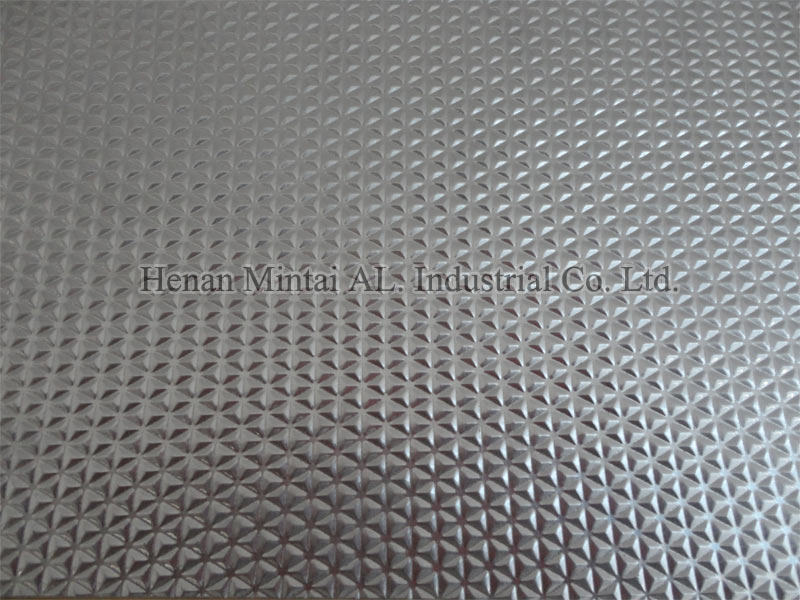 Other Products