Aluminum Coil Products
Aluminum Coil Products Technical Specifications
Aluminium coil including:1000 series aluminium coil,8000 series aluminium coil,3000 series aluminium coil,
5000 series aluminium coil,6000 series aluminium coil,
Alloy: 1-8 sires alloy
1000 sires:1050,1060,1070,1080,1100,1145,1200,1235,etc.
2000 sires:2014,2017,2018,2024,2025,2219,2219,etc.
3000 sires:3003,3004,3102,3104,3105,3005,etc.
4000 sires:4032,4043,etc
5000 sires:5005,5052,5454,5754,5083,5086,5182,5082,etc.
6000 sires:6061,6063,6262,6101,etc
7000 sires:7072,7075,7003 etc
8000 sires:8011,etc.

Temper:O,H,W,F,T
H:H12,H14,H16,H18,H19,H22,H24,H26,H32,H34,H111,H112,H114,H116
T:T0-T651
Thickness:0.2mm-6.0mm
Width:80mm-2300mm
Standard production:ASTM-B-209M,BS EN 485-2,BS EN 573-3,GB/T3880-2008
MOQ:5 tons per size
Mother coil:DC or CC
ID:76mm,152mm,408mm,508mm
Surface:Mill finishing,mirror finishing,checkered
Package:Export standard package with wooden pallet
Package way:Eye to sky or eye to wall
Delivery time:within 30days
Origin:China
Certificate: Mill Test Certificate,Certificate of origin:Form A,Form E,CO

Aluminium coil application:
1. aluminium coil is widely used inLighting, printing, packing, decorative, electronics surface, hot rolled thick plate, PS base plate,
aluminium plastic base plate, aluminium curtain wall base plate, aluminium composite panel base
plate, aluminium spacer, aluminium embossed sheet
2. aluminium coil is widely used as Interior material:wall cladding,ceilings,bothrooms,kitchens and balconies,shutters,doors,curtain wall
3. aluminium coil is widely used as Exterior material:wall cladding,facades,roofing,camopies,tunnels,column cover,renovations
4.aluminium coil is widely usedAdvertisement material:display platforms,signboards,fascia,shop fronts
Export countries:
Britain, France, Germany, Italy, Belgium, the Netherlands, Luxembourg,
Ireland, Denmark,Greece, Portugal, Spain, Japan, Norway, New Zealand,
Australia, Switzerland, Sweden, Finland, Austria, Canada and Poland,Brunei,
Cambodia, Indonesia, Laos, Malaysia, myanmar,Philippines, Singapore,
Thailand, Vietnam,Russia, Ukraine, belarus, kazakhstan, the Czech
republic, Slovakia, Poland, Hungary, Bulgaria, the United States
Products distributor ,Agent,dealer in these countries:
Philippines, Singapore,the United States,Australia,
Vietnam.
Product distribution industry:Manchine manufacturing industry,transport
equipment industry,Automobile industry,packaging products manufacturing,
medical equipment industry,decorative,products manufacturing,food packaging
industry, printing industry,Aluminium bottle and caps manufacturing industry,
ACP industry, floor industry,Roofing industry.
As one China supplier,our aluminium products have hot sale in alibaba
aluminium coil
stock,ebay aluminium sheet stock,amazon aluminium
circle stock,globalsources aluminium
composite panel stock and so on.
Henan Mintai AL. CO., LTD is a China-based manufacturer and supplier
of aluminum sheet.In order to better serve our customers, we also provide
aluminium slit coil, embossed aluminumsheet, aluminum coil, 5 bar aluminum
tread plate, aluminum coil, aluminum strip, aluminum plastic composite panel,
coated aluminum coil,aluminium sheet,aluminium foil ,aluminium diamond
plate and more. If you have a need for any of our products, we welcome
you to contact us. We sincerely hope to cooperate with you!
Aluminum Coil Products Application:
Aluminum coil made in China used in lighting, printing, packing, decorative, electronics surface, hot rolled thick plate, PS base plate,aluminium plastic base plate, aluminium curtain wall base plate.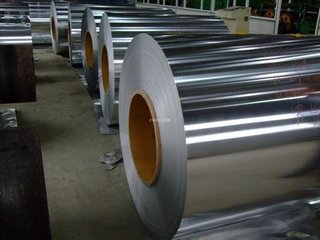 Other Products