Aluminium circle
Aluminium circle Technical Specifications
Mintai is a major manufacturer and supplier of aluminium circle based
in China. Aluminum circle is the one of the deep-processing products
of the aluminIum sheet&plate.Aluminum Circle is called aluminum disk ,
aluminum cake,aluminum dicks and aluminum circle round sheet.
They was named by their shape is circle and their alloy is aluminum
Including: 1000series aluminum circle, 3000series aluminum circle,
5000series aluminum circle, 6000series aluminum circle,
8000 series aluminum circle.


Alloy:1050, 1060, 1070, 1100,1200, 3005, 3003, 3004,3105,5005, 5052,5083, 5754, 6061 ,8011etc
Temper:O,H12,H14,H16,H18,H22,H24,H26,H32,H34,H111,H112
Thickness:0.019" - 0.39" (0.5mm - 10mm)
Diameter:3.93" - 47.3" (100mm -1200mm)
Dimensions and weight can be produced according to clients' specifications.
AluminIum Circle Process
Aluminum Ingots --- Melting Furnace – Holding Furnace --- D.C. Caster --- Slab ---- Scalper --- Hot Rolling Mill – Cold Rolling Mill – Punching – Annealing Furnace -- Final Inspection – Packing --- Delivery
Aluminium Circle Usage
1.Making cookware, utensils, Non-stick pans/pots, Bowl or cup, traffic sign ,pizza trays, pie pans, cake pans, covers, kettles, basins, fryers, light reflectors and so on
2.Aluminum circle is used in the electrical,heat preservation, mechanical manufacturing,
automotive,aerospace,military industry,mold,construction,printing and other industries,
such as kitchen supplies,such as titanium,pressure cookers and hardware items such
as chimney,water heater,etc.,Now,It is mainly used for capacitor case,aluminum pots,
aluminum cans/ bottles,aluminum bowl,electric rice cooker bladder,the road sign,
aluminum drum,aluminum lamp cover,electric kettle and so on
AluminIum circle or aluminium disc Features:
1.Aluminium circle is deep drawing quality, good spinning quality,
excellent forming and anodizing, no four ears.
2.Excellent reflectivity, good for Polishing.
3.Good anodized quality, suitable for hard anodizing and enameling
4.Clean surface and smooth edge, hot rolled quality, fine grains and after deep
drawing no looper lines
5.Excellent pearl color anodizing.
Aluminum circle packing:Export standard, wooden pallet or wooden case
aluminIum circle Surface: Polished, Bright, Anodized,Bright in mill finish.
Aluminium circle Export countries:
Britain, France, Germany, Italy, Belgium, the Netherlands, Luxembourg,
Ireland, Denmark,Greece, Portugal, Spain, Japan, Norway, New Zealand,
Australia, Switzerland, Sweden, Finland, Austria, Canada and Poland,Brunei,
Cambodia, Indonesia, Laos, Malaysia, myanmar,Philippines, Singapore,
Thailand, Vietnam,Russia, Ukraine, belarus, kazakhstan, the Czech
republic, Slovakia, Poland, Hungary, Bulgaria, the United States
Products distributor ,Agent,dealer in these countries:
Philippines, Singapore,the United States,Australia,
Vietnam.
Product distribution industry:Manchine manufacturing industry,transport
equipment industry,Automobile industry,packaging products manufacturing,
medical equipment industry,decorative,products manufacturing,food packaging
industry, printing industry,Aluminium bottle and caps manufacturing industry,
ACP industry, floor industry,Roofing industry.
As one China supplier,our aluminium products have hot sale in alibaba aluminium coil
stock,ebay aluminium sheet stock,amazon aluminium circle stock,globalsources aluminium
composite panel stock and so on.

Henan Mintai AL. CO., LTD is a China-based manufacturer and supplier
of aluminum sheet.In order to better serve our customers, we also provide
aluminium slit coil, embossed aluminumsheet, aluminum coil, 5 bar aluminum
tread plate, aluminum coil, aluminum strip, aluminum plastic composite panel,
coated aluminum coil,aluminium sheet,aluminium foil ,aluminium diamond
plate and more. If you have a need for any of our products, we welcome
you to contact us. We sincerely hope to cooperate with you!
Aluminium circle Application:
Aluminum Circles are widely used in furniture.like aluminum pots,aluminum cans,aluminum pans,road signs. Aluminum circle is the one of the deep-processing products of the aluminum sheet&plate.,Aluminu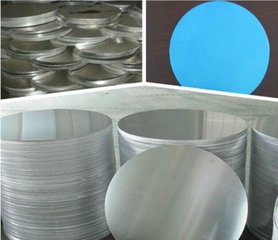 Other Products