Zn aluminum plate introduction
Zn aluminum plate 30 ~ 35% of the products used in the construction of the ceiling after color painted walls, etc.

Galvanized steel surface is smooth, flat and unique gorgeous flowers, color is silver white. The composition of the
coating was composed of 55% aluminum and 43.4% zinc and 1.6% silicon. 55% Al Zn alloy coating of Zn aluminum
plate not only has good corrosion resistance outside, color coated products with excellent adhesion and flexibility.

Metallic coated products of long term corrosion resistance depends on the coating material of the melting rate and
coating thickness, galvanized steel galvanized layer melting rate was higher than 55% Al Zn alloy coating of
galvanized steel melting. Therefore, galvanized steel, 55% Zn aluminum alloy coating of galvanized steel service life
is long. According to the Zn aluminum plate exposed in the atmosphere of the weight loss as the basis,

The main purpose of Zn aluminum plate is: building roof, electrical industry etc.

As a professional manufacturer and supplier of aluminum plate based in China, we also offer aluminium slit coil,
diamond aluminum tread plate, anodising aluminum coil, aluminum coil, aluminum strip, coated aluminum coil, etc.
for you to choose from. Whenever you have a need for any of our products, please feel free to contact us at Mintai.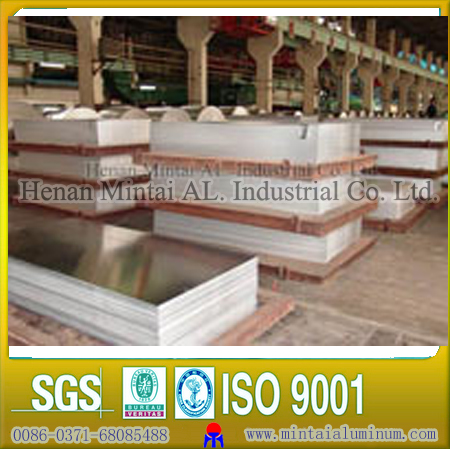 We can supply aluminum plastic composite panel,Color Coated aluminum coils ,PVDF Coated aluminum coils,
Aluminum tread plate,aluminum circle,aluminum foil,aluminum sheet,aluminum plate,Household Foil, Air-container Foil,
Cable Foil, Electronic Capacitor Foil, Medicine Foil,Blister Foil, Flexible Packaging Foil, Aluminum Sheet, Aluminum Coil,
CTP Stock, Litho Stock, Cap Stock,Aluminum Tread Plate, Embossed Coil, Mirror Panels, Cans Cover Materials, Aerospace
Aluminum, Mold Aluminum Materials, etc. At the same time, we also accept OEM/ODM production according to requirements of customers.

Whenever you have a need for any of our products, please feel free to contact us .

Henan Mintai Al.Industrial Co., Ltd is located in China's central commercial hub—Zhengzhou. It is one of best and bigest private Aluminum Industrial Co.Ltd in China.
Office Add:No.1043 room in Weilai International,No.25# building CBD business inner ring Zhengdong New district,Zhengzhou,Henan,P.R.China
Tel:+86-371-680845488
Fax:+86-371-68068199
E-mail:danna@mintaialuminum.com
Web:http://www.mintai-aluminum-coils.com

Feedback
Other Products