7075 Al alloy
7075 aluminum alloy is a kind of cold forging alloy, high strength, far better than mild. 7075 aluminum alloy is one of the most powerful commercial alloys. It has the common corrosion resistance, good mechanical properties and anodic reaction properties. Fine grain makes the depth of drilling performance is better, and the tool wear resistance is increased, and the thread rolling is more unique. Its main physical characteristics: tensile strength 524Mpa, 0.2% yield strength 455Mpa: elongation 11%, elastic modulus E/Gpa: 71, hardness 150HB, density: 2810.

Characteristic

1 High strength heat treated alloy.

2 It has the good machine properties.

3 It is good uses.

4 Easy to process, good wear resistance.

5 It also is corrosion resistance, good oxidation resistance.
Aluminum sheet are widely used for Industrial, Construction, Decoration, Capacitor, Packaging Material etc.

Henan Mintai AL. CO., LTD is a China-based manufacturer and supplier of aluminum sheet. In order to better serve our customers, we also provide aluminium slit coil, embossed aluminum sheet, aluminum coil, 5 bar aluminum tread plate, aluminum coil, aluminum strip, and more. If you have a need for any of our products, we welcome you to contact us. We sincerely hope to cooperate with you!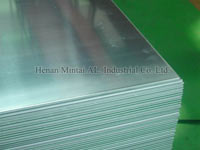 Feedback
Other Products