Production and Application of Aluminum Foil
Aluminum foil is a direct metal aluminum rolling into sheet stamping materials, the effect of the short-run effect and sterling silver foil stamping similar, so it is also called fake silver foil.

Waste aluminum foil can be used to prepare polymeric aluminum chloride. Production of polymeric aluminum chloride is a kind of inorganic polymer flocculants. Due to the polymerization aluminum chloride molecules with varying amounts of hydroxyl groups, when the polymerization aluminum chloride added to the raw water turbidity, under the pH conditions of source water continued to be hydrolyzed, accompanied by condensation, adsorption, sedimentation and a series of physical and chemical processes, so as to achieve the purpose of purifying water. Aluminum foil of this application, just now with the rapid development of industry and the rapid growth of urban population, water pollution is increasingly serious social status. Because of the need to purify the sewage is increasing, so the water purification agent is also the demand of aluminum chloride from aluminum foil is also increasing.
As a China-based aluminum foil manufacturer and supplier,our well-equipped facilities and excellent quality control throughout all stages of production enables us to guarantee total customer satisfaction. As a result of our high quality products and outstanding customer service, we have gained a global sales network reaching worldwide.
Alloy: 1100, 1050, 1070, 3003, 3103, 3004, 3105, 3005, 5005, 5052, 5754, 5083, 6061, 6082,8011
Temper: O. H18. H24
Thickness: 0.01mm- 0.2mm
Dimensions can be produced according to your specifications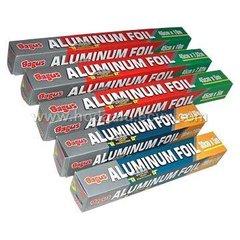 Feedback
Other Products