The Development Process of Medicine Aluminum Foil
Drug use aluminum foil packaging process occurs in some European countries in the 1930s. China as early as the 1980s began to use foreign technology, the introduction of foreign equipment and raw materials. After 1990, some Chinese enterprises have been able to independently produce monochromatic or polychromatic PTP drug foil equipment, pharmaceutical packaging supplied to some domestic enterprises to use, and can produce a color series of medicinal aluminum foil packaging products. Now there have been many domestic manufacturers PTP aluminum foil production equipment, medical equipment foil packer has to meet some of the domestic demand. Now the country has hundreds of blister pack having qualified manufacturers.

Pharmaceutical packaging methods are liquid, injections, tablets, granules and other forms, but most of these packages are to be used in aluminum foil. First produced in aluminum processing enterprises to the appropriate thickness of aluminum foil (some even reach tens of microns thickness, Imagine, several tens of microns of aluminum foil thinner than a piece of paper a lot), after printing, the coating can after use, and generally in pharmaceutical packaging, such as capsules, tablets on seal and easy-open caps and pharmaceutical packaging PTP medicinal aluminum foil, in particular, PTP aluminum foil having high light, easy to use, moisture, safety and health, easy to carry and saving advantages of a long period, it was widely used by the packaging industry.

Since 1985, the use of aluminum foil pharmaceutical packaging, pharmaceutical aluminum foil when the amount is small, the amount per year in about 150 tons, with the upgrading of technology and extensive promotion, today has accounted medicine pharmaceutical foil packaging 20% of the packaging, compared to the original amount of medicinal aluminum foil has been greatly improved. In terms of value, the price of foreign pharmaceutical packaging is 30% of the value of drugs in the country less than 10%, which also shows potential applications include foil, including the new pharmaceutical packaging materials is enormous.

Warwick specializes in producing aluminum PTP medicinal aluminum foil, medicine foil production quality in the industry reputation, widely praised by customers!

If you have demand for PTP medicinal aluminum foil, you can call 400-0650-866 advice or visit our website for more information about the medicinal.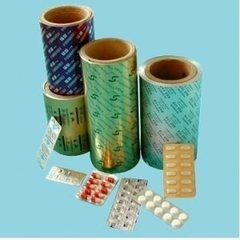 Feedback
Other Products