The Characteristics of Hot-Rolled Aluminum Billet
Hot-rolled billet is one of the two main raw materials of aluminum foil production of hot-rolled blanks below explain in detail the features:

Hot-rolled billet production process: melting - ingot - Milling - Homogenization - hot rolling - intermediate annealing - cold - Aluminum ingots.

Hot-rolled billet will produce more pinholes

Pinhole is a major defect of the aluminum foil, as the raw material, rolling oil, or dust in the air above size reaches 55m into the roll gap can cause pinholes, so the following 0.006mm thickness Aluminum pinholes is impossible. However, the use of aluminum foil on the product, we hope the number of pinholes aluminum foil, the better.

Pinhole foil rolling oil filtration, rolling process conditions (tension, speed) and roll roughness and so on, but mainly by the metallurgical quality billet aluminum foil of the decision.

Compound in the blank forms and distribution, segregation in the organization, grain size and other factors are the number of pinholes. Thus, the production of liquid aluminum billet Aluminum purification, filtering, and grain refinement will help to reduce pinholes.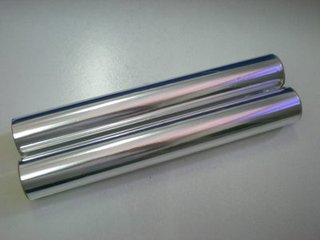 Feedback
Other Products